CR-6 SE vs CR-6 Max - Auto Leveling & Large Printing Size?
2022-04-13
What's features of CR-6 SE, what is the difference between CR-6 SE & CR-6 Max.
CR-6 SE Get access to Creality first automatic leveling 3d printer , over $4.3 Million Funds & 10K Backers Supported in Kickstarter. Many Creality supporters and admirers were looking for a machine with similar capabilities but a higher print capacity. Join us as we tease it out in this post
The Creality CR-6 MAX has all of the same features as the CR6 SE. Differences in:
It make a bigger build volume of 400mm x 400mm x 400mm. It is around the same dimension as the CR 10S4 and the larger CR10 Max.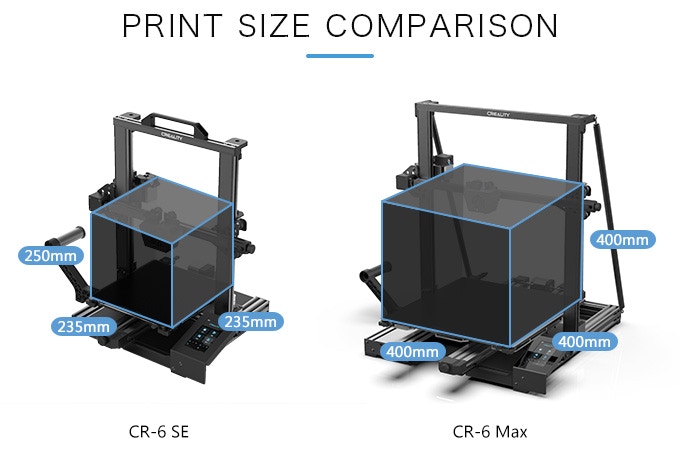 Sturdy Triangulated Axis
Supporting rods we called, The metal diagonal drawbar formed a solid iron triangle shape.
Most of our CR Series Large Size 3D Printer has equided with this design, especially the printing size larger than 300mm. Such as the CR-10S4, CR-10S5, CR-10MAX, CR-10Smart etc. Dual Z axes and dual diagonal drawbars can effectively reducethe resonance produced during printing to enhance the printing stability and precision. As the bed starts moving forward and backward, these metal supports help to prevent vibrations.
CR-6 SE & CR-6 Max all have:
Slient
Self-developed silent motherboard featured by a 25% decrease in decibel compared to peer products creates a cozy working environment. TMC2209 Motor Drivers for more precise and quiet printing.
Auto Leveling of Bed
With a sensor that is force-based, CR-6 MAX offers the same CR6 SE's unique leveling mechanism.
Max just places the nozzle on the bed at a certain location. The hot-end stress sensor then identifies the precise location where the nozzle makes contact with the glass.
New Extrusion
Redesigned extruder with a clip added, filaments' feeding in is much easier and the feeding is smoother. Modular design supports the user to deactivate the nozzle and replace the heat sink, heat block, Teflon tubing, or tip of the nozzle, using the available spare parts easily.
Touch Screen
4.3" HD LCD Touch Screen with intuitive UX UI, allowing users to quickly and easily navigate the intuitive menus or check on the print status.
More Details:
- (CR-6 SE)Light weight and easy to carry, easily Work From Home
- Branded Power , strong and stable current
- Filament Sensor, Resume printing functions
- X, Y-axis belt tensioner, fast and easy adjustment
- Flexible Filament Holder
- A movable holder for limited space
-Tool Box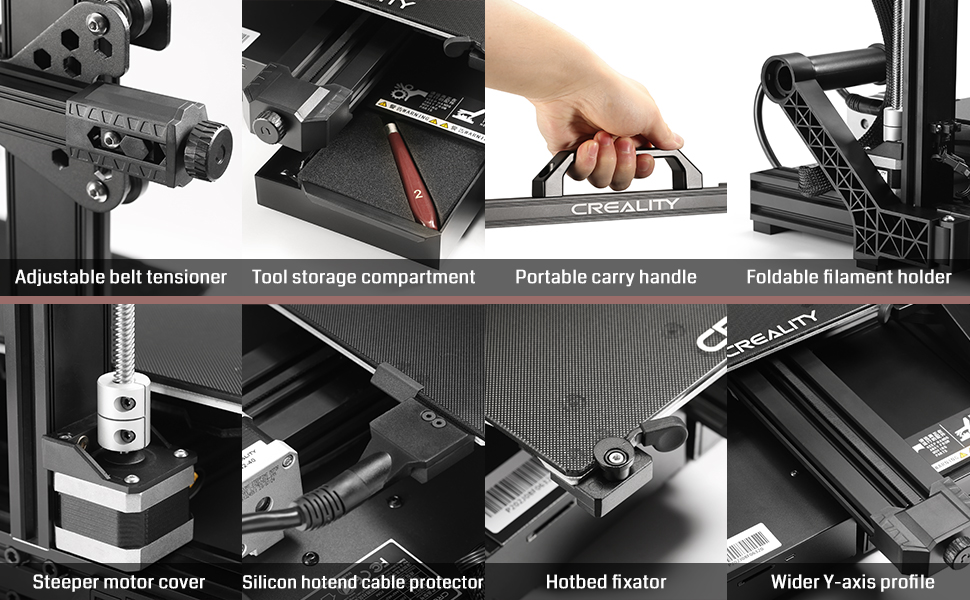 Reviews Of CREALITY CR-6 SERIES
Creality CR-6 SE 3D Printer First Look!
Creality CR-6 MAX Review | Everything you need to know! (4K)
Why Choose CR-6 SE(Max) - Friendly, one Of Best 3D Printer for beginners and hobbyists.
Easy Setup
The printer comes 90% pre-assembled and should be ready out of the box within minutes. All users need to do is connect the gantry to the base with four screws which shouldn't take much time. After that, you are ready to print with the machines.
Innovative Bed-Leveling
Most Creality 3D printers demand manually leveling via a sheet of paper. But that's not the case with CR-6 SE. The force-based sensor on the printer promises hassle-free automatic bed leveling. This is done by featuring a truly leveled print surface that not only greatly improves bed adhesion, but also the overall print quality without much hassle.
It touches the surface of the bed and then based on the resistance that is sensed, it smartly adjusts itself to be in a perfect position for 3D printing parts. All users need to do is just give a single click to the touch screen interface to start the auto-leveling process.
Printing Size
CR-6 SE in 235*235*250, a fully enough Size, large than Ender-3, Ender-3V2,
and CR-6 Max come with 400*400*400mm to meet the large size requires