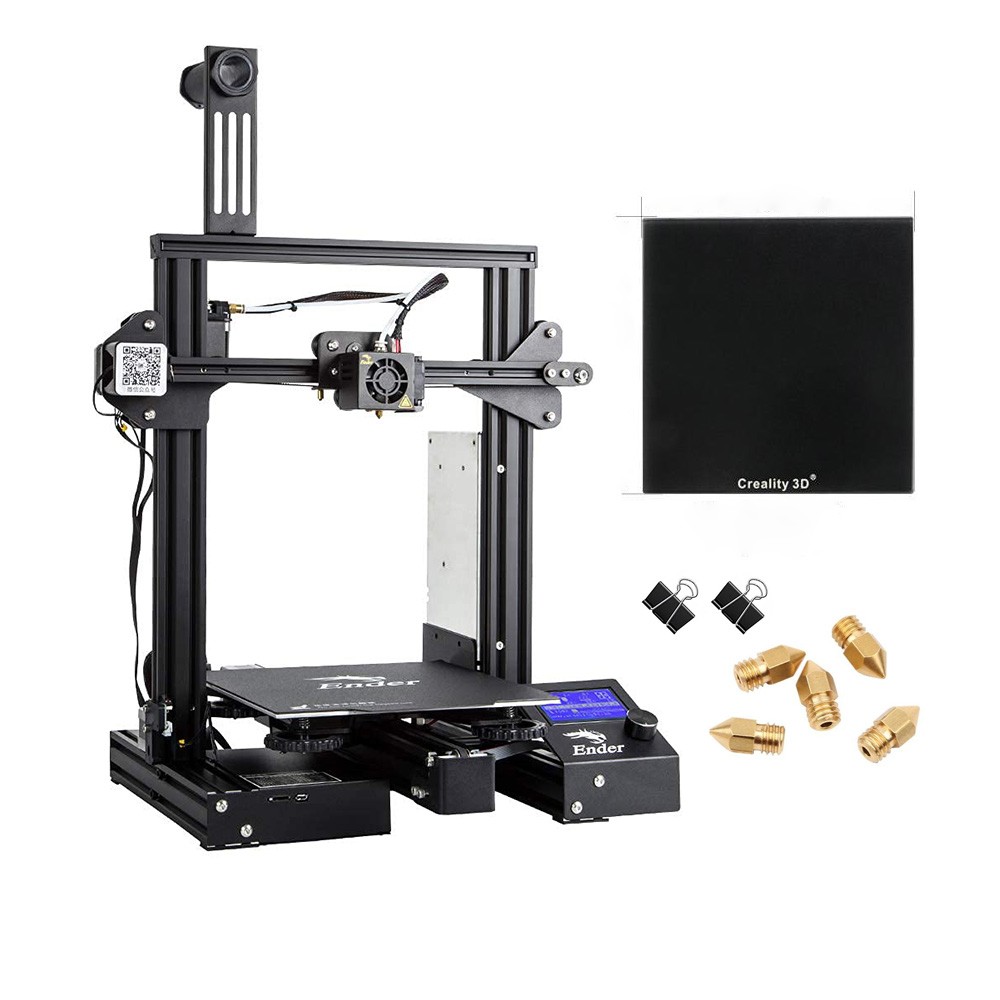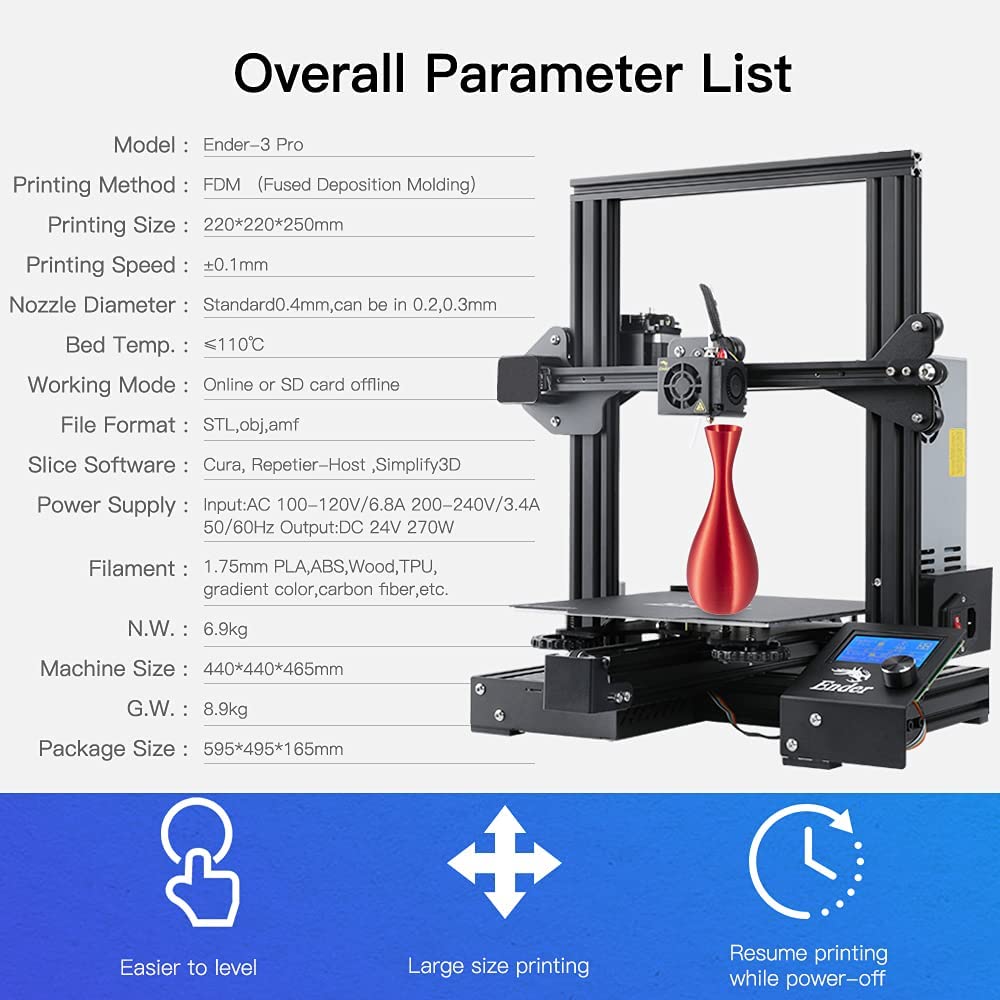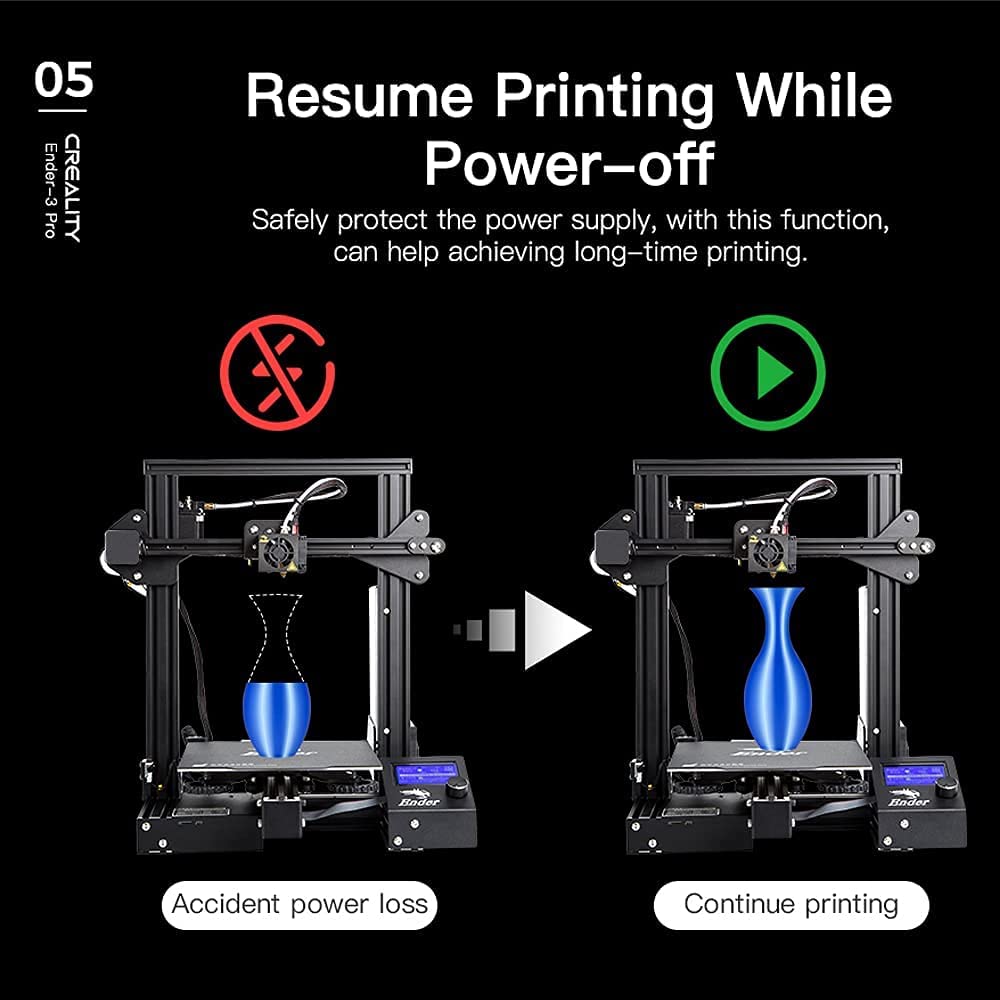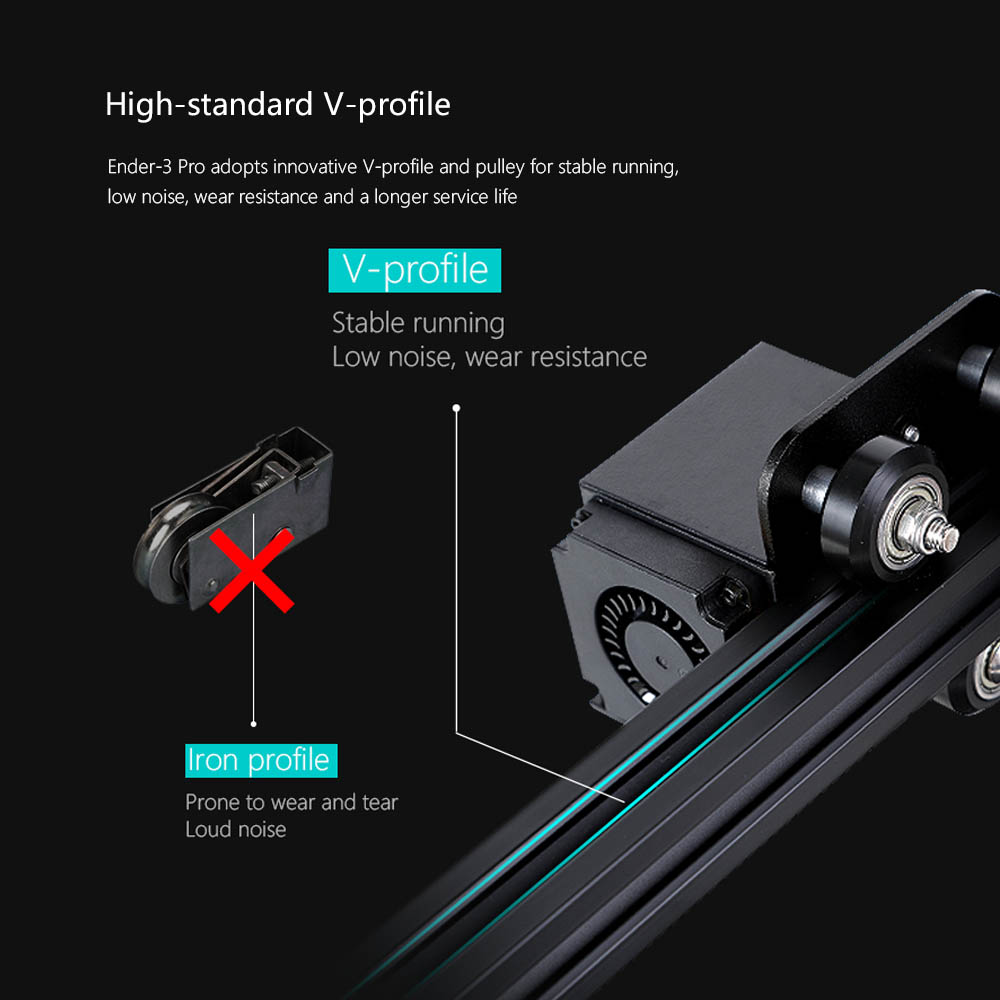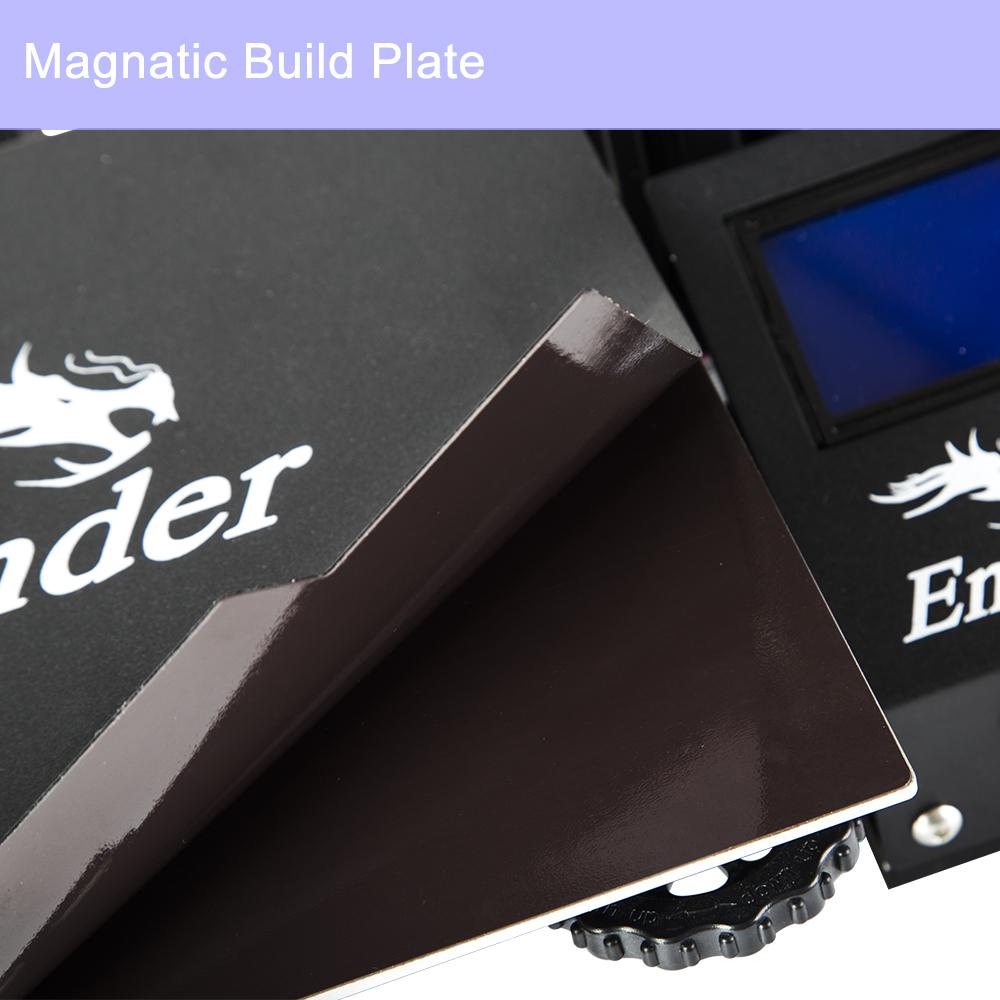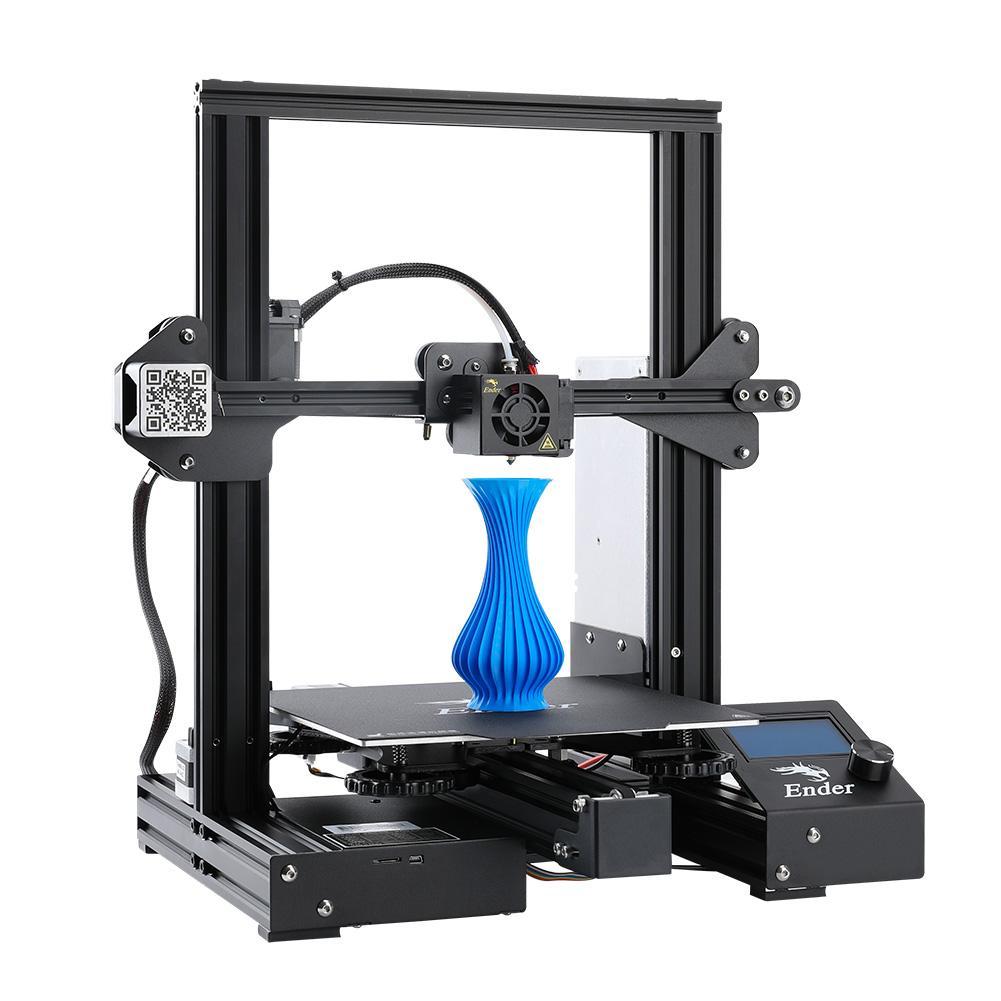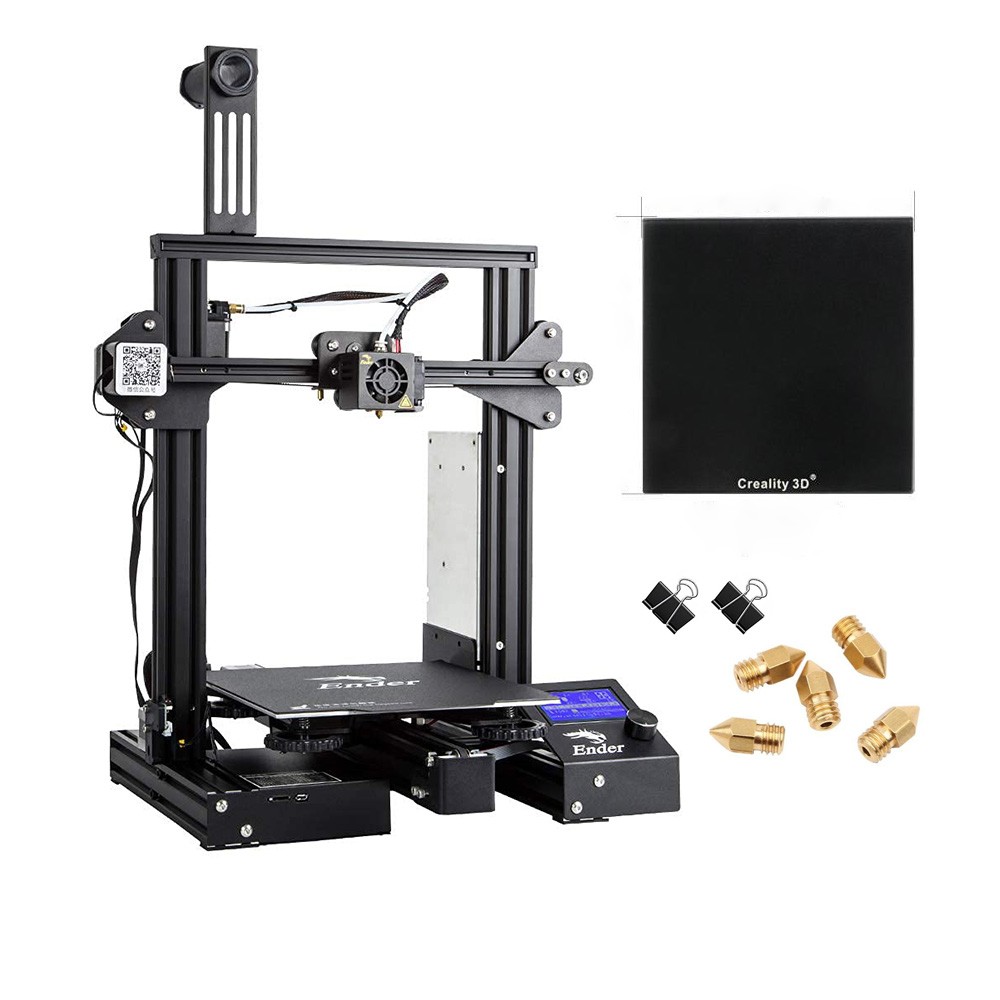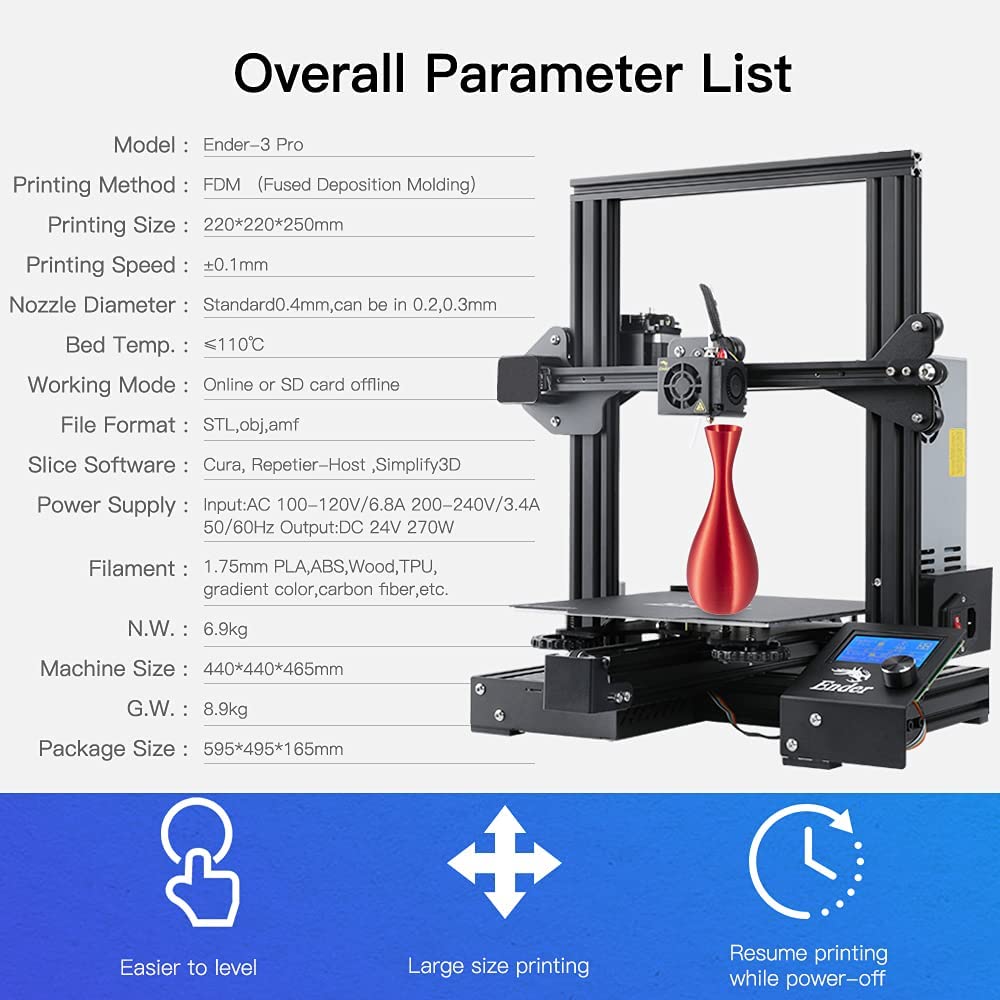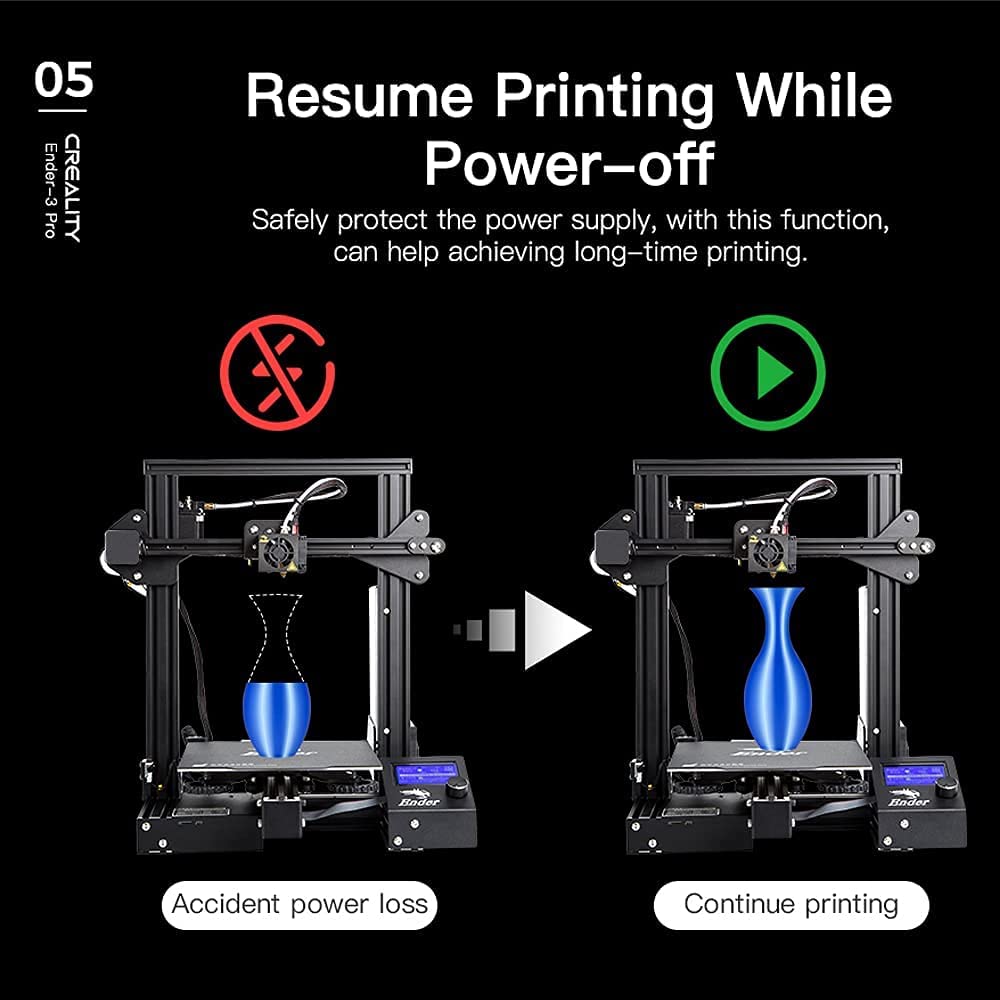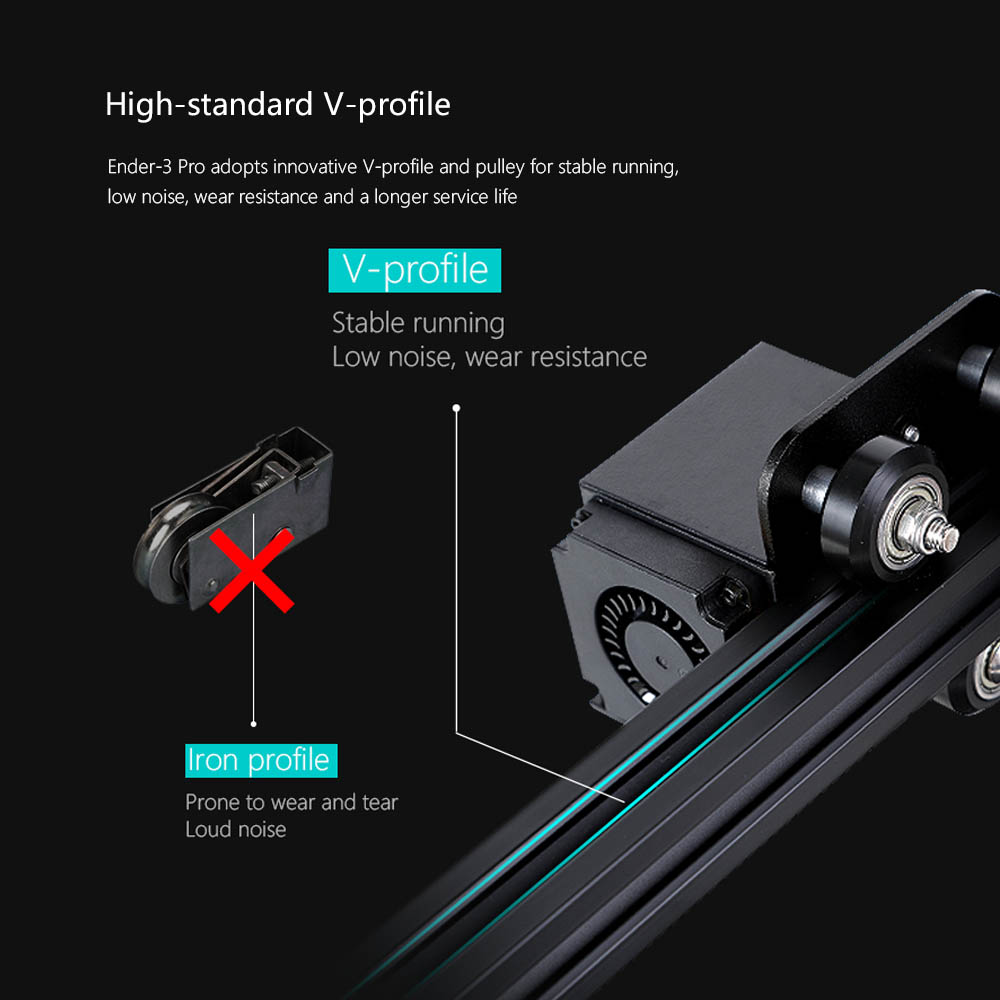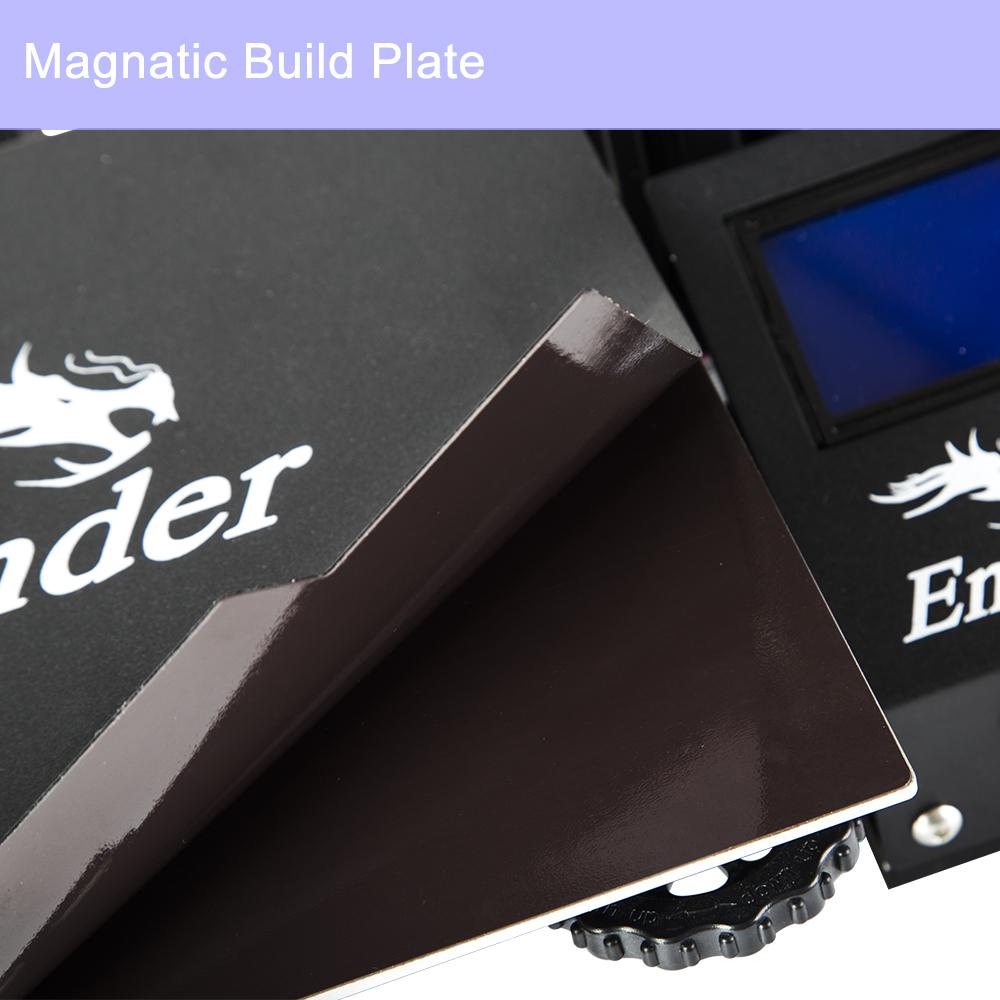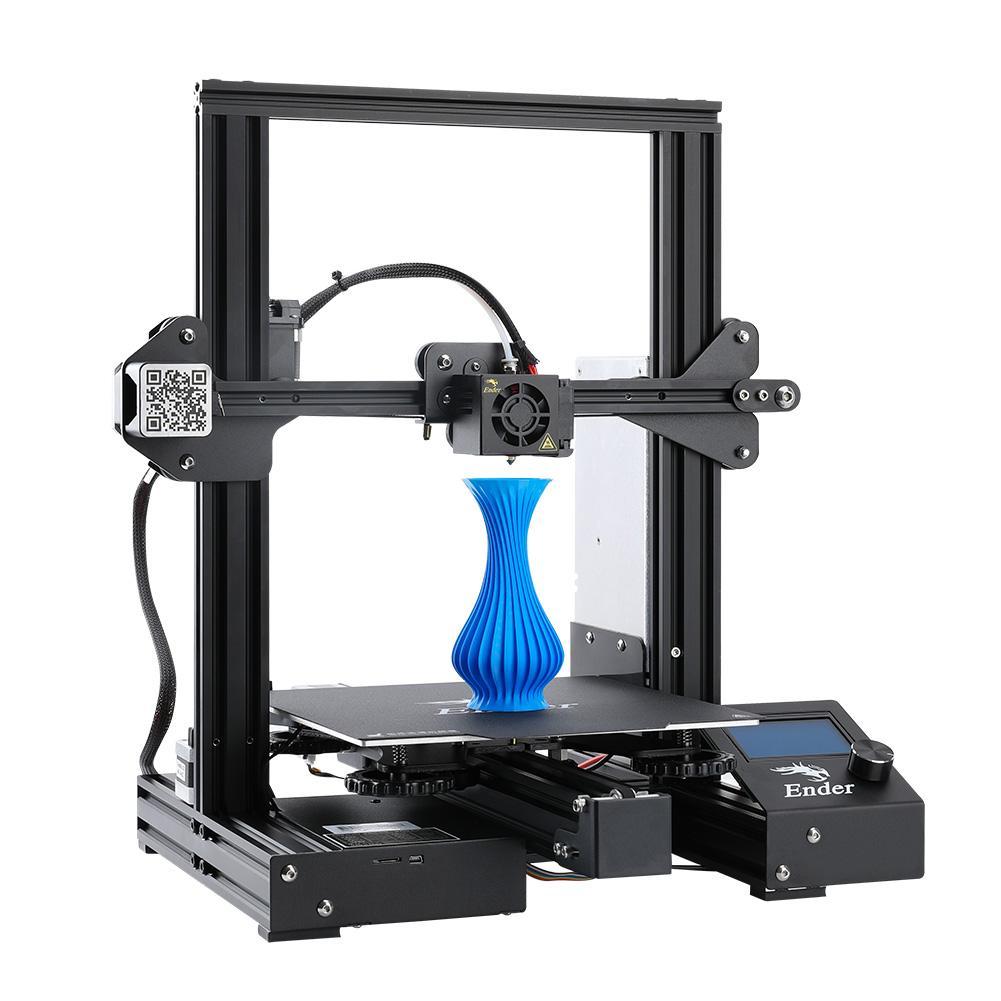 Ender-3 Pro 3D Printer with Glass Kit | MeanWell Power Supply
€
199.00
EUR
€
229.00
EUR
Ship From

Please select product attributes before purchasing~~
Model-1
Ender-3 Pro+Tempered Glass Kit

Ender-3 Pro+Tempered Glass Kit+CR Touch

Ender-3 Pro

Ender 3 Pro+CR Touch
This item can't be shipped to this Country/Region
It is expected to arrive within3 daysand will cost£10to ship
Free Shipping 3-7 Days Delivery.
Tax Exemption & Duty-Free On EU 3D Printer, 1-Year Warranty + Return within 14 Days!
We test each 3D printer before shipment.
Creality Ender-3 Pro FDM 3D Printer with Glass Kit
The Creality Ender-3 Pro is an affordable FDM 3D printer, there are many good reasons to drop money on this machine.
The first reason is obvious: it's an extremely low price!
Second, the Creality Ender-3 Pro 3d printer offers features that you don't find in more expensive 3D printers: a decent build volume of 220 x 220 x 250mm, a magnetic bed, a power recovery mode, and a tight filament pathway that makes it easier to work with flexible materials.

Thirdly, it just irons out some of the flaws of the Ender-3 3d printer, which is a machine that makes love because it's hackable as hell.
Creality Ender 3 Pro advantages and upgrades:
Ender 3 V1 Upgraded Version: Creality Ender 3 Pro is an upgraded version of Ender-3, comes with the Meanwell power supply and new platform sticker, also redesigned the plastic extrusion. The Ender 3 Pro boasts the same outstanding performance as the Ender-3, upgraded components make Creality Ender 3 Pro more stable, durable, and more comfortable to operate
MeanWell Power Supply: We adopt the MeanWell power supply, which is produced by the listed company with mature technology, and it meets all the needs of fast heating and long-time 3D printing. The printer is shielded by its power supply from voltage spikes and power outages. If electrical power is lost, prints can be resumed from the last layer, saving time and reducing waste.
More Stable: Redesigned with a much more sturdy, 40x40 aluminum extrusion for the Y-axis base. This provides stability for the printing process, leading to better print quality.
Superior Printing Surface: A new state-of-the-art "C-MAG" magnetic sticker is designed for Ender 3 Pro, it is entirely removable, flexible, and can better adhere to the platform. Once the model is finished printing, remove the magnetic upper from the lower and bend or flex the print surface to watch the model effortlessly pop off the printing surface.
Enriched Accessories: It must be surprising that more useful accessories are included in our package. Extra parts can save you time while you need them, also cost-effective.
Ender 3Pro Unboxing, set up, and Print test
24 Mods and Upgraded For Ender 3Pro
FAQ
Filament does not stick on a hotbed?
For newcomers, this is the most common problem. Do not worry, you can solve it easily. Generally, the distance between the nozzle and platform is too far or near. So rotary the knob under the platform to adjust the distance between the nozzle and platform again, at a piece of A4 paper distance or less).
What are the main differences between the Creality Ender 3 Pro and Creality Ender 3?
Improving mechanical properties. Reduce friction and provide better dimensional stability.
Improved extruder, reduces the risk of clogging and uneven extrusion.
A new magnetic printing surface, removable and flexible, allows you to pluck prints off the build plate easily.
Does Creality Ender 3 Pro support breakpoint interruption?
Yes.
What filament does Creality Ender 3 Pro use for printing?